What is Nano Donate?
Nano Donate is a browser extension for Google Chrome which allows you to easily make Nano currency donations to participating websites. The website owner specifies the Nano donation address beforehand so you can just concentrate on making the donation.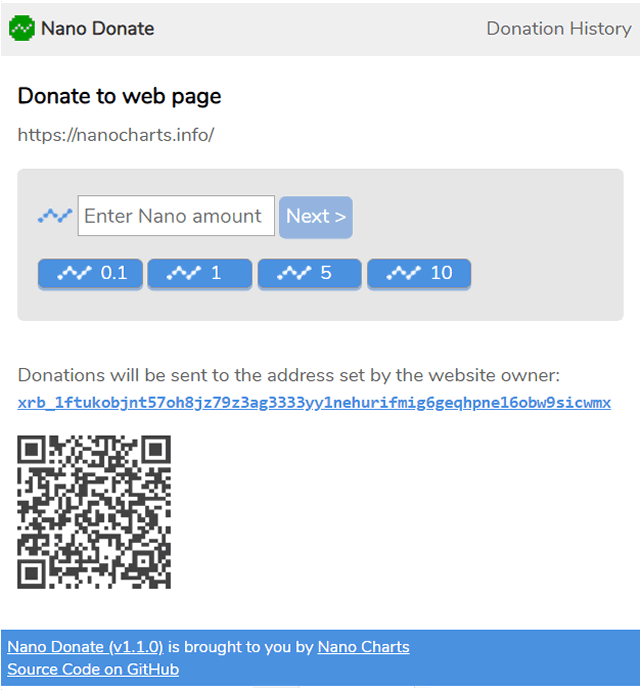 Nano Donate in action
I own a website. How do I accept Nano donations through the Nano Donate extension?
Very easy! Simply add a nano meta tag to your HTML with the following format:
<meta name="nano" content="ENTER_YOUR_NANO_DONATION_ADDRESS_HERE"/>
Nano donations sent through Nano Donate will arrive at the address you specify in the meta tag.
If you need a Nano donation address download the Natrium mobile wallet, create a new wallet and then click the "Receive" button to view your Nano address.
Depending on your website's architecture you could choose to specify a Nano donation address for your entire website or on a page-per-page basis. It's up to you!
Once set up we recommend sending a few small test 0.0001 Nano donations to your own website to test that everything is set up correctly.
Where do I download Nano Donate?
Nano Donate is available at the Chrome Web Store

Is there a fee involved?
Absolutely not! Nano Donate uses the Brainblocks payment processing service to process Nano payments, as well as support for scanning QR codes from your mobile wallet.
Can I trust this extension?
Full source code for Nano Donate is available on its GitHub page.
What is Nano?
Nano is a global currency with instantaneous transactions and zero fees over a secure, decentralized network. Learn more at nano.org
Which websites are Nano Donate-enabled?
Here are just a handful of websites enabled for donations: